GLASS barrel
We can deliver Aqua Angels water to your home or office in our most popular glass barrel (11.3 liters). Packaged in an elegant and tradition-inspired wooden crate, it will not only add a rich and inviting feel to your space but also meet the needs of those who want to combine a good lifestyle with a sustainable way of life. We always collect empty barrels at the next delivery, so you do not have to worry about waste disposal. ORDER 3 FOR FREE DELIVERY.
More *in* DETAIL
Sourced in Iceland, which is renowned for its clean environment and exceptionally pure water, Aqua Angels is premium-quality glacier water at its best.
Its unique combination of high alkalinity and a naturally low mineral content gives it an exquisitely fresh taste, which is perfectly preserved in a sustainable glass barrel. Looking after your body and caring about the environment are just two reasons why glass has become our core packaging material.
*Wooden* crates
Glass is 100% recyclable and infinitely reusable. It also perfectly preserves the unique flavor and quality of our water over a long period of time. While enhancing safer water transportation and storage, our team also developed a custom-made wooden crate. Each one of these is individually handcrafted and designed in a gorgeous vintage style, which makes them an elegant storage option in your home.
Just stack them on top of each other and transform them into a useful, but beautiful, freestanding display or decor piece in any part of your house, office, or retail space. We have set up a deposit-refund system to help start the recycling process. Together, we can help our planet and make the environment safer for the future. Get the most out of life with Aqua Angels.
*Other* products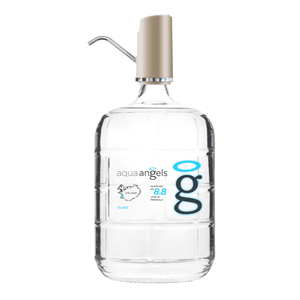 Touch pump gold
Gold SlimCool
Water in glass bottle 0,75 l
6 pcs in package